Industrial Epoxy Flooring Installation Contractors in Salem, Oregon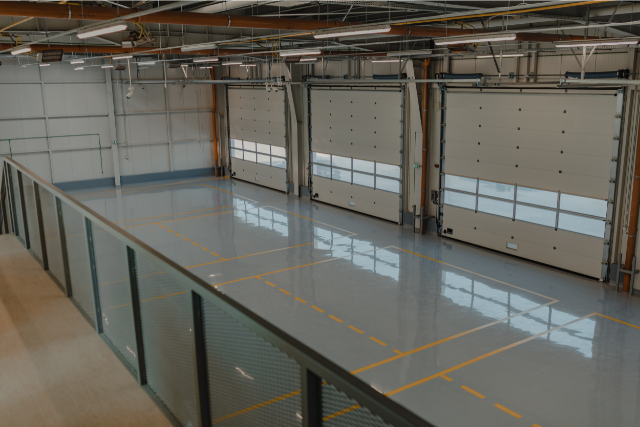 Choosing what type of industrial floor coating to install in your facility typically requires a fair amount of consideration. 
In most industrial facilities (manufacturing plants, airplane hangars, distribution plants), flooring endures a tremendous amount of wear and tear. If you have been in one of these settings, you know the floor is subject to harsh, corrosive chemicals, oils, and scratches from heavy machinery.
You need an industrial floor coating that is durable and will serve your facility for many years to come. Our Salem, Oregon epoxy flooring professionals are not only skilled and experienced, we also use only premium commercial and industrial grade epoxy materials that are developed by leading manufacturers.
Having served clients across the state of Oregon for more than 20 years and spanning a range of industries, our company is prepared to install industrial epoxy flooring that meets your needs.
Our professional contractors are fully licensed, insured and intensely trained on the latest in floor coating techniques. We use state of the art equipment and products.
Contact us today for a free estimate and consultation for your industrial flooring project.
We apply concrete coatings that keep your business safe and efficient
When you invest in a high-quality industrial epoxy coating for concrete floors, you guarantee a neat and polished look for your area, as well as a safe work environment for your employees.  
In workplaces such as assembly plants, commercial kitchens, garages, and distribution facilities, you know there are many moving parts. This includes forklifts carrying heavy materials, machinery, push carts, vehicles, and a lot more.  
Without appropriate traction provided by epoxy floor coatings, workers are put at more risk for injury as slips and falls become more common. A non-skid, slip-resistant, industrial floor coating limits and halts accidents from happening, helping businesses to avoid stoppages and remain free of safety concerns.
Besides that, a proven epoxy floor coating can transform any industrial facility into an efficient machine, reducing time needed on repair and cleaning. Industrial floor coatings applied by our experts are superior and offer everything you need for your floors.
Call us at your convenience to learn more about our local company and what we can do for you.

Call us today at 503-468-4141.